Coronavirus continues its expansion around the world affecting more and more people and a countless number of businesses. In these unprecedented times, not only doctors and healthcare systems are trying to fight back the COVID-19 pandemic – hundreds of thousands of companies across the globe are trying to stand against by transforming their business, work models and simply survive. 
Although we see the world crisis coming, there are successful examples of sales growth in some companies, online, of course. As the whole world seems to be paused, the online sector is growing now and is predicted to become even bigger.
For years now, there have been talks about how the adoption of more flexible and remote styles of working is changing the nature of providing services in many fields. The Computer Weekly's report shows that while during the workday remote employees are skiving and being distracted by some 'side activities' like watching kids, self-educating, shopping, they are still more productive. Despite the same workload, people now feel that they have more time for themselves and are willing to take part in activities they've been postponing for a long time. 
The epidemic and, consequently, lockdown have caused a radical shift even for progressive companies, not to mention previously conservative ones with a skeptical view of telecommuting. Many businesses have migrated to a fully virtual operational model and closed their offices.  
People stopped going out, they do not commute but they continue to use the Internet! You don't see them on the streets, but you can easily notice that the number of 'green dots' in all social media has increased! 
Being able to access services online is now considered not so much as a perk but as an expectation. Customers are expecting to be given alternative options of using your services, they want to feel like they're taken care of. 
There is the only way for you as a service provider to stand against this upcoming crisis: you have to transform and adapt your business, boost your flexibility, follow your customers and enter new markets. 
"In this difficult period caused by coronavirus-related economic distress you cannot just shut down and disappear. You have to show your clients you are able to work with them in good and bad times", said Adrian Bubela, CEO at SEVEN.
While more and more people are tied to their homes, the demand for online services grows. On the other hand, businesses are looking for ways to stay productive and self-supporting in an economy defined by the challenges of staying connected in isolation. The quicker you go digital now, the more prepared and responsive to new challenges in the future your company will be. The farther and more remote you are from your clients, the sooner they will be back to purchase your services. 
At SEVEN, with our SEVEN PPM Chat Core we've been enabling our clients to quickly launch their online remote counseling tools already for years. No different the situation is today when our software solution helps companies adapt their services to new online reality caused by the coronavirus outbreak.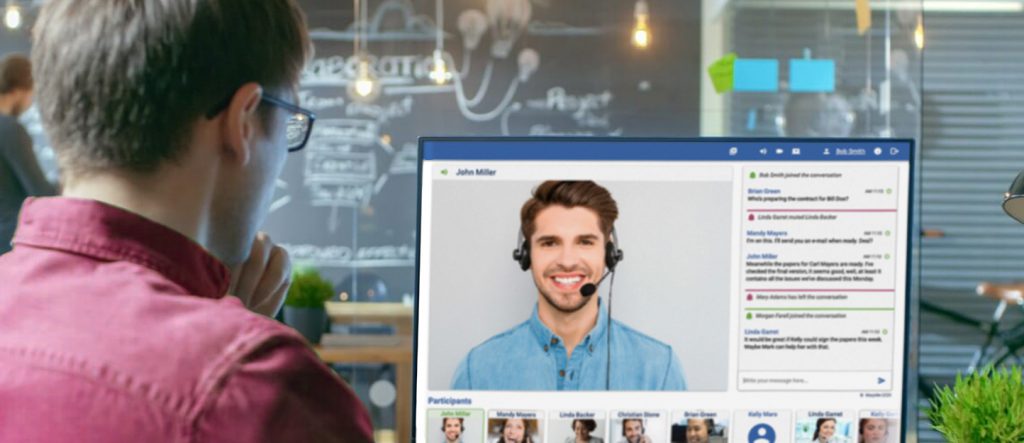 For those, who have just recently stepped on the path of providing services online and conquering new markets, we offer to transform their digital platforms in a one-stop-shops for clients. Enhancing your existing website or mobile app with SEVEN PPM Chat Core functionality will not only allow to provide paid counseling services online but also provide seamless user experience by eliminating the need in leaving the ecosystem and using external services for making calls or payments. The e–consultancy approach with per session/per minute billing has gone further than a combination of a Skype/Zoom call with a PayPal transaction. 
Tutors, financial advisers, life coaches, lawyers, accountants, nutritionists and many other highly skilled and narrowly focused professionals are now entering new markets and monetizing their expert advice with online pay-per-minute video/audio/messaging chat applications based on SEVEN PPM Chat Solution.  
Today is high time you take advantage of making money by chatting and providing online consultations and there's a bunch of reasons why. 
3 reasons to adopt PPM Chat technology and start providing online counseling services now
Coronavirus pandemic isn't going anywhere anytime soon
Even a perfect response and rapid measures won't end the COVID-19 outbreak within the next few months. As long as there is no cure and the virus is out somewhere, there's always a chance that one infected person will reignite new sparks in countries or regions that have already put out their fires.
In this situation, going digital and adopting an online business model via providing chargeable by minute/session consultations doesn't seem to be a needless, temporary measure. We may be made to stay home much longer than expected now. This only means the growing demand and request for diversification of services provided. The longer we are cut off from offline activities, the wider range of online services we will be asking for. In this case, not only "serious" experts will be in demand, users will turn to entertainment and advice services such as fortune-telling, astrological forecasting, emotional venting, psychic reading, live streaming events.
The world will never be less online
The steps towards comprehensive digitalization have been already taken. If not by you then by others. And this process is unlikely to stop. Most of the companies are now looking for ways to hold their customers and not to let the sales drop. And once they find these solutions (that are undoubtedly lying in the online field) and invest in them, no one will make them redundant after the coronavirus-caused crisis is over.
The new online era has just started, the world will never be the same again. And what we all can do now is accept it and learn how to live in this new reality.
Users are willing to go online and encourage digitalization
According to the last year's Pew Research Center report, 28% of U.S. adults say they are 'almost constantly' online, while overall 81% of Americans say they go online daily. You probably agree that these numbers would grow even without the 'lockdown help'.
The form of our presence online is transforming in each possible way and, as users, we are encouraging that. Today, it's even no surprise that we follow digital influencers and models! Such humane fields as blogging and social influencing are now digitalized to the fullest though, so be sure there's a place for your business and expert advice as well.
Another serious issue that has started emerging in awareness terms lately is the negative impact of feelings of loneliness and social isolation on everything from the productivity to overall well-being. Online services connected to live chatting can improve mood and cheerfulness and become a win-win communication in many aspects.
It's not typical of us to perceive the crisis as a window of opportunity but the measures we are now taking to adapt our businesses and stand up to coronavirus threat may provide us with the instruments of earning in the future. Want it or not but within the next few months, the only place you will be able to meet your clients is online. So let us help you create the live online chatting instruments today so that you could meet your clients tomorrow.
Have an Idea? Let's Talk It Through!