Understanding your target audience is a big challenge, let alone building a product that meets the requirements of most users. And yet another challenge is to communicate the customers' needs to the rest of the team.
Creating a company-wide understanding of what the users desire is a key step towards creating a value that the customers will appreciate and revisit regularly. Empathy mapping allows doing exactly that. It can lead you to a top-quality user persona and a UI/UX prototype.
It's a visualization that combines the knowledge about the user and presents it in a simpler way. It creates shared knowledge and similar values that your team will then pursue during development.
It's a tool to learn more about your users. Not just where they live or how old they are, but their thinking process. It allows discovering hidden problems, which can then be used to improve the product and increase the value you're offering.
You need an empathy map when:
Conducting initial research on potential users
Optimizing an existing product, finding ways to improve UX
Preparing to create a user persona
The team needs more understanding about the desired product values
The process largely depends on your goals and needs. Therefore, an empathy map can only be useful when it aligns with your business targets.
Set goals and prepare
Make sure you know what exactly you're looking for. Define your target audience and user type. This can save you time on unnecessary activities. Conduct your market research, check out the competition and the reviews, collect any piece of information that might be useful for understanding the user needs and pains. Interviewing and surveying help gain information from the users themselves.
Choose the team & start discussing
Product team members have to be there since they are involved in all of the inner processes. Also, consider inviting someone who can relate to your target audience and provide at least some answers that can be used later.
Try to think and act as your user. Emotions, habits, problems – try to discuss as many of those as possible in one session.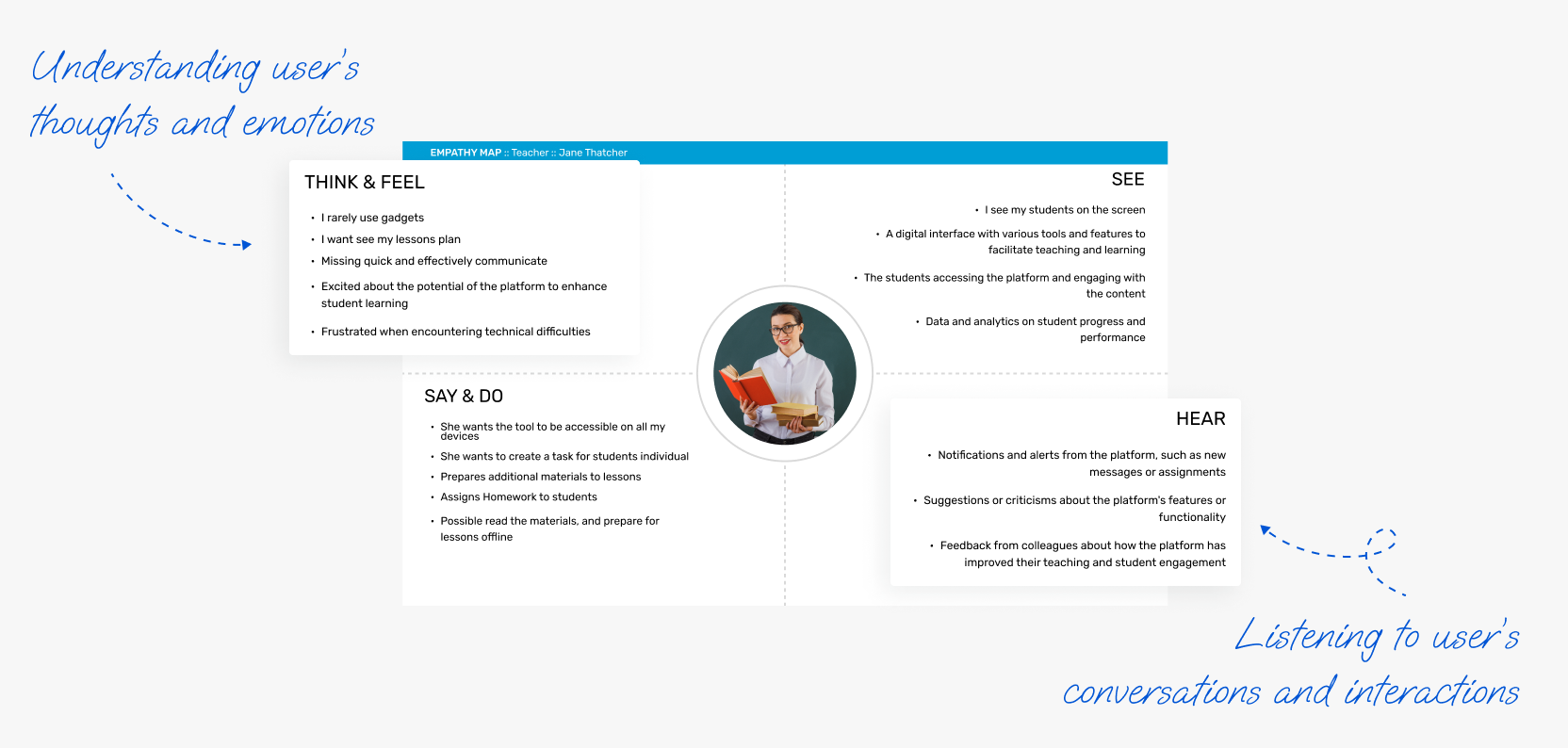 Consolidate all the insights into one map
There are 4 aspects of an empathy map, each responsible for the separate user activity.
User:
Says. Everything a person says during an interview or in a conversation. Is that person influenced by something else? What made them adopt these quality standards for this specific product? Try to determine the clues that can help you create a better experience for the user.
"I'm looking for some books for my niece."
"I hoped for something simpler to use"
Does. What actions does the user take that are connected to your product? Helps determine the behavior patterns and possible product design flaws.
Looks up detailed book descriptions
Reads "Top 5 Books For Kids"
Thinks. What the customer might think about in the process. Can something prevent them from completing the action? What are possible pain points?
"Man, this search filter gives me nausea"
"Do they really think I'm supposed to know all the genres?"
Feels. Describes the emotional state of the user while they interact with your product. Worries, reservations, hopes, fears – everything a person can experience. Connect them to the services you provide and try to brainstorm the possible reaction of various people.
[Frustrated] This was a bad idea from the start
[Annoyed] Why can't I use my PayPal here?
This approach uncovers the initial needs of the users and the challenges they face while trying to find a solution. It can be just a misplaced "buy" button or a bad user experience overall. The thing is, it will negatively impact the customer's feelings about the product. Empathy mapping is one of the tools that help designers find these issues and then communicate them to the rest of the team.
Empathy mapping is one of the early stages of software development. It helps to familiarize the team with the user needs and the most common problems. This way, the team will better understand how customers feel while interacting with the product. It helps create a culture where everyone on the team knows which problems they're solving and works hard to deliver such a solution.
It unveils valuable insights that you can use for major improvements and a pleasant user experience that will make users come back for more.